Are Your Audio Tapes Shedding?
Get Your Free Restoration Quote Now!
Audio Tape Restoration Services
For many years I've been directly involved with analog audio tape restoration services. I've restored single reels for small record labels. I've also restored entire archives with literally hundreds of reels in many formats for recording artists like The Kinks.
Let me restore your treasured analog master tapes, records, and cassettes!
Worried about your sticky shedding analog tapes? Take a moment to read my journal about working on the Kinks archive. Learn about the level of care and attention to detail I'll devote to your analog audio tape restorations.
Your Family Recordings Carefully Restored!
Maybe you have precious family heirloom recordings that you haven't been able to listen to. Perhaps from analog reels, transcription records, or cassettes? I will handle your family recordings with care. The same care as I have previously done for hundreds of my Thundertone Audio clients.
I have the knowledge, experience, pride, and proper equipment to do a great job recovering your deteriorating analog recordings. Check out my credentials. You can also read my story, written in 1988, entitled "The Causes and Cures of Tape Shedding." It's one of the most viewed pages on dealing with the issues of analog hydrolysis sticky tape shedding.
The laboratory incubator I'll use for tape baking your analog master tapes performs beyond the specs needed. Furthermore, this incubator is more stable than household ovens, within a half of a degree.
This is more stable than the usual five degree swing in common household ovens. As a result, your tapes won't pick up excess moisture like they'll do in gas fired ovens.
Finally, my Studer, MCI, and TEAC playback machines are in peak operating condition. They are also meticulously calibrated for exacting analog to digital transfers. As an additional benefit to you, I'll find a suitable long term storage medium for your project. I can even assist you with guidelines for storage of your own analog master tape libraries. In conclusion, I'll perform fabulous sounding audio transfers!
Audio Tape Restoration Services
Thundertone Audio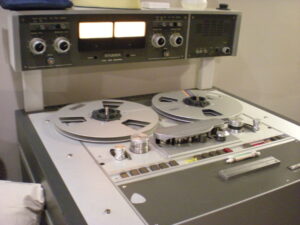 Call: 847 222 1029 for a free consultation.
mike@mikekonopka.com